SUSAN WILSON – late Co-founder of Community Shakespeare
1956 – 2016
About Susan Wilson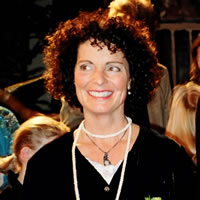 Susan Wilson first discovered a love of theatre through her involvement with neighborhood theatre troupes as a child. This initial exposure to acting and stagecraft, combined with a natural ability to inspire young people of all ages and relate to their individual gifts and strengths, enabled her to maintain a dynamic and uncanny connection with all her student actors. Susan worked tirelessly on all aspects of producing first-rate performances since CSC's inception, including (but not limited to) creating engaging and realistic stage sets, managing props, running lines with actors, ensuring students had healthy snacks and water to drink during rehearsals, staying up into all hours of the night painting set pieces or hanging drapery, and all this after giving kids a ride home from rehearsal. In addition to volunteering with CSC, Susan delighted in her work as a kayak guide and was an invaluable inspiration to her daughters, Tasha and Arielle.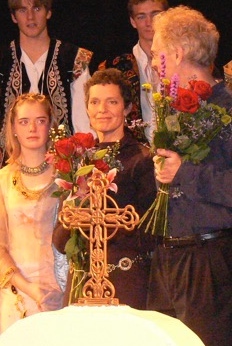 In life we get thrown into relationships, often without having sought them. This is particularly true for those of us who knew Greg Ewert, who in his "Puckish" way was forever mixing and matching the talents he saw in other people, as if the world was his canvas and the people he knew were his palette. Greg "painted" many "pictures" in this fashion, and one of them resulted in my collaboration with Susan Wilson.
Susan never sought the limelight, and because health issues forced her to step back from the company several years ago, many people do not know the extent to which she is responsible for Community Shakespeare.  It was Susan who first staged plays in Greg's K-5 alternative classroom in the late 1990s.  She had already created a nurturing, creative theatre environment when I appeared on the scene.
It was Susan who coined the name, "Community Shakespeare." When the plays we were producing began to outgrow the classroom (so many students wanted to be in them, from elementary through high school), we determined to form a non-profit company with the following mission: "to enrich young lives and cultivate community, with theatre as the means and Shakespeare the inspiration."
In reality, Susan was the inspiration. It was she who instinctively understood the essence of what we were creating: a safe, nurturing environment in which children and young adults could blossom into more confident versions of themselves.
–Richard Carter, 2013